Archive for the 'Children Nutritions' Category
As is well known, the milk is a food par excellence for the young at birth was their only source of livelihood and even after a few months began with supplementary feeding, the benefits of milk must accompany our children throughout their growth because it is a rich source of calcium necessary for growth and bone development.
So when our son says he will not drink milk, we are alarmed parents.One child from 1 to 3 years need 500mg of calcium (2 cups or ½ liter of milk), and a 4 to 8 years need 800 mg of calcium daily.If you do not want to drink milk, we think of dairy such as yogurt and cheese also contribute significant amounts of calcium.
Other foods do not provide enough calcium, for example, if we meet the calcium needs of a child with other foods, need to eat 7 cups of broccoli or 15 cups of spinach to get it.Always the best choice for calcium are milk and its derivatives.
When the child no longer wants to drink milk, or their derivatives in natural state, are a good choice of desserts.What kid does not like desserts?.But the downside is that after 2 years of age do not need as many calories with the desserts.
A good dessert recipe with milk found in candy Queca , a Peruvian dessert very mild flavor that being flavored with vanilla, your child will not notice you're drinking milk.This particular recipe is very simple, natural, and not kilos will add others to their children or to you.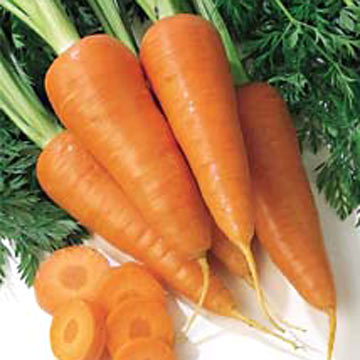 Always eat carrots, during pregnancy when the baby is being formed, when the toddler begins to eat solids or in the daily diet of any person. The main benefit is recognized is to have a good vision for its high content of vitamin A, but this is not the only benefit, and carrots are the only ones that provide it.
Carrots contain pigments (the best known is beta carotene) which apart from giving its color, form of vitamin A. This pigment also can be found in foods including red and green because green can not see the yellow pigment:
Yellow vegetables, pumpkin, peach, asparagus.
Orange vegetables: carrots, pumpkin, sweet potato, papaya, mango.
Red vegetables: peppers, tomatoes.
Greens: parsley, broccoli, spinach, cabbage.
Food of animal origin: egg yolks, fish liver oil and dairy in general.
Among the benefits of vitamin A are:
Cell differentiation: They allow the cells, especially nervous tissue, ie brain, nerves, etc .- reaching mature as they will have forever. They also include the mucous membranes, skin, hair
Visual: Enables the development and operation of the rods and cones (two types of cells) of the retina responsible for vision in light and darkness respectively, plus revenir visual problems such as glaucoma, cataracts, blindness and conjunctivitis twilight.
I've never met a child who does not like gelatin, it is actually a food that appeals to young and old alike. What is it? What are their properties? Is it food? Are some of the questions we have.
Gelatin is composed of proteins derived from collagen extracted from bones and cartilage of animals after boiling and cooling the sediment. At this stage it is odorless, colorless and tasteless, but it mixes easily with different substances and takes the color and flavor we all know.
The gelatin can be used as a dessert, adding color and flavor to this same mixture can introduce fresh fruit, gelatin can be used together with pure fruit or individual portions of fruit inside. Besides gelatin, as a fresh dessert, you can use during the first baby teeth to cool his inflamed gums.
Another way is to use gelatin as a thickener for coverage of desserts to set fresh fruits, and also in the manufacture of jams, jellies, ice cream and marshmallows.
Summer is approaching and your baby is ever increasing. Want to take to the beach to enjoy the sand and sea, but also need to watch how much food.
After 6 months of age, your baby may be eating some fruit and porridge are the best choice for your digestion is not heavy. Some fruits that your baby can eat are bananas, apples, pears, peaches, quince, pineapple and orange.
Beyond the jam packed (which are also good and you can bail out), natural fruit porridge prepared by yourself will be excellent to nourish your baby, because they provide many vitamins and fiber, ideal for your stomach tract become stronger and ready for more solid food.
The mixtures prepared right before your baby will eat and not throw them sugar, they are very fresh, perfect against the summer heat. Do not forget that you should not keep them if your baby no longer wants to eat, besides giving them a special baby spoon not to cause any injury to his mouth.
When you start to breastfeed need to have a certain amount of products that will serve you very much. No easy task, but with these products will have a little relief. Learn a little more about this art, the most beautiful in the world.
Breast milk storage containers
Extraerte and store breast milk can be very necessary, more than anything when you're at work or when you leave your baby at home because you have to leave. These containers must be completely sterile and clean, can be plastic bags or plastic containers, like those of which you use to take lunch to work.
Outdoors, the milk lasts up to 8 hours in the refrigerator up to 5 days and the freezer you can take about a month. Do not forget to label the containers with the date and time of extraction to ensure their enforcement.
The eating habits of the so-called developed countries favor the increase of diabetes in children, whose disease is characterized by predisposition or inherited genetic factors.
Recent studies show that European and American children with diabetes with increasing frequency. In particular, the incidence is higher in the American nation because the child population has high rates of obesity.
Diabetes is a syndrome characterized by excessive accumulation of sugar in the blood due to low production of insulin (produced by the pancreas), a substance that is responsible for transporting the entire body. There are two types: Type 1 diabetes occurs in people where insulin production is low or nonexistent, and most patients with this condition develop it before age 30. In turn, the type 2 occurs when the pancreas still produces insulin but the body becomes resistant to its effects, usually appears after age 30, and one of the major causes is obesity.
The researchers also analyzed genetic factors, environmental elements and various infections, early exposure to cow's proteins and stress as possible triggers for type 1 diabetes in children. In response, the less effective prevention, because although specified to avoid viral infections from pregnancy, caring for feeding or prolonged breastfeeding during the first months of life of children, have not determined the exact environmental factors that influence in the development of the disease.
In the case of type 2 diabetes, specialists make it clear that you have a defensive position very clear: low-fat healthy diet and exercise.
Thus, although no conclusive results are available, open new lines of research, for example, about the consumption of smoked foods. In countries where this type of food is common, such as Finland, there is an index of 40 diabetic children per 100 thousand.
In Mexico, diabetes has increased so recently that the number of patients is about 10% of the total population. It is very probable that the cause is in the making of the patterns and habits of our neighbors to the north.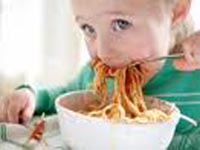 Remember that eating habits are generally established during the first years of life of children. Your children need to eat a good variety of healthy foods such as: cereals, wholemeal bread, fruits and vegetables. As well as protein-containing foods: meat, fish, soy products and legumes. Milk is an important source of energy (calories) and children under 5 years old should drink 600 milliliters a day at this age is not necessary to restrict total fat and cholesterol if it is a healthy child because they require extra calories, however, roasts and baked foods are preferable to fried and very greasy.
The amount of food that children need to meet their energy requirements and nutrients varies according to your height and weight, sex and activity level. The appetite is usually a reliable guide to nutrient requirements, do not fall into the trap of forcing children to eat more of what they want because the old belief of "Leave your plate clean" is not only outdated but can also cause indigestion and obesity and this dislike certain foods cause their children throughout their lives. It is best to serve low-ration, it is normal that young children are very hungry one day and this decreased interest in food by the next day.
Eating should be one of the great pleasures of life, which is why you should encourage your child to enjoy a family meal, and you must also engage in simple tasks when preparing certain foods. Food relaxed and pleasant conversation, instead of scolding and yelling, berating him up the way you eat, can alter children's digestion.
Consider the role of genes and the latest scientific developments in this regard.
1. Latest scientific
Studies on the role played by genes in the development of obesity are constant, although there is still much research and learning. Most important of all the known so far is that it opens up new avenues of treatment to consider genes individually. This allows further identify, if possible, their therapy and that it is more effective.
Read the rest of this entry »
The Role of Genes in Obesity
If there is a predisposition to be assumed and begin preventive measures as early as possible in our children
Certainly many parents who are obese have been raised at some point if the disease will also affect their children.
Is genetics a factor?
Can we do something about it or have to take the inevitable?
The energy balance of a person can be influenced by up to 40% of their genetic heritage
Parents should be aware and take the errors committed in their diet and lifestyle to avoid transferring their children, because the key focuses on "eat better and move more."
What parents obese children obese?
When parents are obese or one of them is the likelihood that their children are obese increases. In fact, it is estimated that children have between 50% (if one of the parents is obese) and 80% (if both are) likely to be too, yes, considering that genetics is not a factor decisive.
To understand it better, even considering that certain genes predispose to this disease, if we do not add other factors such as lack of exercise or poor diet rich in fats or sugars in most cases will not develop obesity.
* The baby formula is an industrial milk produced from cows' milk, but whose composition is changed to make it similar to breast milk, while respecting strict standards. Therefore, these infant formulas contain less protein, more fat and essential fatty acids and exact amounts of minerals and vitamins.
* The choice of a formula does not take place on the shelves of a supermarket, but commenting the pediatrician and health professionals. Only he will advise you based on the composition of milk and your baby's tolerance. Above all, do not change the formula without prior consultation.