Posts Tagged 'eating habits'
In recent years, obesity has taken place within the area of ??children, making them overweight people are very young, something not seen before. Much is blamed on fast food and junk, but what about the parents? What do we do to remedy this growing problem?

The first thing we have to think about is how we are feeding, if we have good eating habits at home, how many times a week we feed them fast food, among other habits that we acquire along the little time we have to devote to housework.
Another important point to note is that obesity is a disease that can be inherited, if the father or mother, or grandparents, are obese, then it is time to pay much more attention to food at home to care for child and prevent diseases such as diabetes or hypertension in children.
The underlying problem in society can be reversed if we pay a little more attention to what they eat our children. I'll give you some very healthy tips you can take into account to help combat childhood obesity at home.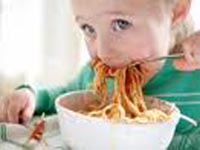 Remember that eating habits are generally established during the first years of life of children. Your children need to eat a good variety of healthy foods such as: cereals, wholemeal bread, fruits and vegetables. As well as protein-containing foods: meat, fish, soy products and legumes. Milk is an important source of energy (calories) and children under 5 years old should drink 600 milliliters a day at this age is not necessary to restrict total fat and cholesterol if it is a healthy child because they require extra calories, however, roasts and baked foods are preferable to fried and very greasy.
The amount of food that children need to meet their energy requirements and nutrients varies according to your height and weight, sex and activity level. The appetite is usually a reliable guide to nutrient requirements, do not fall into the trap of forcing children to eat more of what they want because the old belief of "Leave your plate clean" is not only outdated but can also cause indigestion and obesity and this dislike certain foods cause their children throughout their lives. It is best to serve low-ration, it is normal that young children are very hungry one day and this decreased interest in food by the next day.
Eating should be one of the great pleasures of life, which is why you should encourage your child to enjoy a family meal, and you must also engage in simple tasks when preparing certain foods. Food relaxed and pleasant conversation, instead of scolding and yelling, berating him up the way you eat, can alter children's digestion.