Posts Tagged 'fruits and vegetables'
Studies show that consumption of fruits and vegetables in children and adolescents do not meet the required amounts. How can ingest the percentage that allows them to have a balanced diet?
Is known to work and encourage parents to teach good eating habits in children, and make every meal time pleasant and family. However, in recent years there has been a change in the organization of most Mexican households, now both parents work and family meals are limited to weekends.
"It is therefore difficult to monitor and control what their children eat, who can opt for fast food and snacks with empty calories," says nutritionist Maya Luisa Funes. Indeed, while in the care of someone, often argue that "I ate at school, but do not know what they ate.
Highly nutritious edible
Fruits and vegetables are the primary source of important nutrients such as vitamins, minerals and fiber. Therefore, their consumption is weak risk factor for the development of various chronic diseases: atherosclerosis (deposits of fat in the bloodstream), irritable bowel syndrome (produces diarrhea, constipation and abdominal pain), anemia (low red blood cell production almost always iron deficiency) and constipation, among others.
In this context, note that the Pan American Health Organization (PAHO) is intensifying its efforts to encourage healthy eating habits in Latin America, among which the promotion of eating five servings of fruits and vegetables daily.
PAHO recommends consuming 400 grams of fruit and vegetables each day (equivalent to five servings, approximately) as invaluable help to prevent chronic diseases, including cardiovascular, cancer, diabetes type 2 (high blood sugar levels) and obesity.
Problems and solutions
It is common for children, especially preschoolers, have a special aversion to certain foods, like vegetables. Although food preferences should be respected and considered when planning meals, do not let the child dictate his will.
"In this sense, it is important that the variety of foods that are cooked at home is very wide, in this way, children will have more choices and less likely to reject. In addition, above, also allows them to understand the need and importance of eating all foods, "suggests the specialist.
Keep in mind that eating habits acquired by the child from earliest infancy, marked the habits for the rest of his life. Thus, Maya Funes advice:
Present the dishes in a fun way, with ingredients that provide colorful and attractive, it is a "hook" for children and young people because it draws attention and is palatable.
Seek to start the day eating some fruit, either chopped or juiced; also have the advantage that they can easily be everywhere.
Include in your lunch or lunch a bowl of fruit or vegetables. And if it works, you always have these foods visible at home and reach of children, be aware that if seen, are more likely to eat them.
Always add a side of vegetables or fruit, whether in a salad or mashed, to the dishes prepared with meat.
Use pureed vegetables to thicken soups and add flavor.
Use some seasoning, or lemon and chile powder piquín.
Prepare desserts with vegetables (carrots, squash) and fruits.
Cut food into curious shapes.
Helping children to eat more fruits and vegetables do not have to represent daunting task. In its school breakfast can add different fruit every day of the week, for which we have many options. At meals we make salads with vegetables and colorful fruits, and always keep in mind that creativity before serving will be your best ally.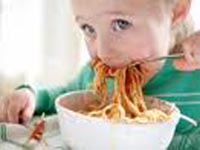 Remember that eating habits are generally established during the first years of life of children. Your children need to eat a good variety of healthy foods such as: cereals, wholemeal bread, fruits and vegetables. As well as protein-containing foods: meat, fish, soy products and legumes. Milk is an important source of energy (calories) and children under 5 years old should drink 600 milliliters a day at this age is not necessary to restrict total fat and cholesterol if it is a healthy child because they require extra calories, however, roasts and baked foods are preferable to fried and very greasy.
The amount of food that children need to meet their energy requirements and nutrients varies according to your height and weight, sex and activity level. The appetite is usually a reliable guide to nutrient requirements, do not fall into the trap of forcing children to eat more of what they want because the old belief of "Leave your plate clean" is not only outdated but can also cause indigestion and obesity and this dislike certain foods cause their children throughout their lives. It is best to serve low-ration, it is normal that young children are very hungry one day and this decreased interest in food by the next day.
Eating should be one of the great pleasures of life, which is why you should encourage your child to enjoy a family meal, and you must also engage in simple tasks when preparing certain foods. Food relaxed and pleasant conversation, instead of scolding and yelling, berating him up the way you eat, can alter children's digestion.